(1927-1997 г.)
| | | |
| --- | --- | --- |
| | | |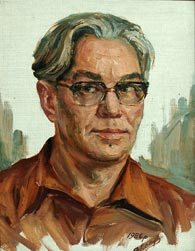 Since 1984 N. A. Popov was a member of an artist union of Ukraine. Since 1985 he was a member of an artist union of the USSR. He also took part in the Great Patriotic War. N. A. Popov was born on the 8th of April 1927 in the Belhorod region (Urazovo village). He lived in the town of Makeevka (Donetsk region) from 1933 till 1944. There he graduated from an artist paint shop at the Pioneer Palace. In 1944 he was drafted to the ranks of the Soviet Army and sent to the front. In 1945 he was hurt during liberation of the town of Stanislav. He was hospitalized and, when recovered, was left to serve in one of the military parts of the town. He was also directed to be an artist at the Officer Home of Stanislav. Since 1963 to his dying day he worked for an artistic production centre at the artist union of Ukraine (Ivano-Frankovsk). He was a painter. 1958-1964 - N. A. Popov graduated from Moscow polygraphic institute. His specialty was a graphic artist of printed matter. His teachers were: professors A Honcharov, O. Horoshchenko and lecturers V. S. Zhitinev, A. I. Zhuravlyov.
1987-1997 - he lived and creatively worked in Kremenchug. 1944 was the beginning of his creative activity. The labor one was working as an artist or painter. 1963 - he received a personal creative studio at the artist union of Ukraine, where he worked until he died. Before he joined the artist union he had already been the member of 12 republican exhibitions (1964, 1967, 1970, 1971, 1972, 1974, 1977 - 2 exhibitions, 1978, 1980 - 2 exhibitions, 1984). He took part in a lot of regional, foreign and zonal exhibitions, 4 - personal ones. His works can be seen in the museums of Kiev, L'vov, Ivano-Frankovsk, Kolomyya, Kalush, ans also in such countries as Poland, Russia, Romania. The pictures were given to or bought by organizations, plants, schools, hospitals, military departments. They were also bought to become a part of private collections of the citizens of Ukraine, Russia, Poland, Canada. N. A. Popov was married to Ludmila Dmitrievna Artukhov (1929-2000), native of Krukov (the town of Kremenchug, Poltava region). The address of the genetic family of Artukhov (Artukh) was and still is, 26 Kavaleriiskaya street, Kremenchug (26 Chap aeva street).
The artist used to like picturesque overflow land of the Dnieper river and Krukov, fishermen's life (his wife was a fisherman's daughter whose father used to have a fishing artel in Krukov until 1917. Nowadays civilization didn't leave those places, they are retained on his canvas. Dnieper, overflow land, great grandfather's yard, krukovers' portraits found their reflection in his creativity. His first works devoted to Krukov are dated 1952. The artist preferred these places and there was no summer without having a holiday in Kremenchug. At the same time he created his new works. This beautiful town constantly kept inspiriting him. During his last 10 years (1987-1997) he lived mainly in Kremenchug. His love to this place was so great that he left his children and grandchildren his great grandfather's house ("mazanka", a cottage of daubed brick or wood). In their turn they kept it as a sign of valuing his creativity and historic property of the place, so now this house is alre ady 120 years old. It survived floods, war, urbanization and it still delights descendants' eyes.
Artistic stuff (1943-1997)
Works in branch of painting: landscapes, portraits, still life, composition canvas, oil painting technique. Works in branch of easel painting (graphic arts): landscapes, portraits, still life, linoleum block technique compositions, etching, painting in water-colours, drawing. Topics: landscape canvas "Kremenchug-Krukov", "Krukov-overflow land" (1950s), "KremHPS (hydroelectric power station), "Dnieper", the town of Sednev (Kiev region), the Carpathians land; portrait gallery of outstanding and famous people of Ukraine (including the Heroes of the Soviet Union and socialistic labour and ordinary workers and students); creative and historical stuff about Ukraine, including wooden architecture (churches, a lot of which burned down); also military stuff (compositions, portraits, sketches, drawings, studies) as he was a participant of the Great Patriotic War and worked as a civilian artist in military departments of Ukraine and he was a chief of Ivano-Frankovsk one; such topics as "Kobzar'" (T. G. Shevchenko), Kremenchug-Krukov", "Kremenchug-Dnepro HPS", travel along Volga", production topic, "Prikarpatskyy krai"; German workers who used to work for gas pipe line "Druzhba" portrait gallery (drawing), the stuff depicting life and history of 'hutsuls" (ethnographical group of Ukrainians living in the Carpathians); portraits of people dressed in national clothes, also famous whittlers, weavers of hutsul carpets, teachers and ordinary people's portraits. Composition stuff: lumber-men and cattle-breeders' daily routine, congresses and holidays; the Carpathians landscapes. In 1985 N. A. Popov was registered in the list of honourable citizens of Ivano-Frankovsk because of his creative activity.
Composed by:
N. A. Popov's daughter T. N. Yerko (Popov).
picture-gallery
You have to add a link to this site when using this stuff.
V. E. Ivushkin, 2008.

© Ivushkin V.E. 2008 г.